Your Desire Shall Be {Day 9}
This post may contain affiliate links. You can read my disclosure policy here. Hi Ladies! I'm truly behind – which isn't particularly surprising. Like I said yesterday, I blog during the "in between" times of my life and this week has been a killer. Tuesdays are always hectic, non-stop on the go days and Wednesdays…
Hi Ladies! I'm truly behind – which isn't particularly surprising. Like I said yesterday, I blog during the "in between" times of my life and this week has been a killer. Tuesdays are always hectic, non-stop on the go days and Wednesdays I am always with my daughter, Hannah, at the ice rink and it's a 14 – 16 hour day before I get home. And this week, Thursday I have to get up and leave at 5 am with my youngest daughter, Laura, to make the 3 hour drive to the Shriner's hospital for her Orthopedic appointment while my husband hold's down the fort here at home. So it's going to be another long day.
I will catch up on the videos – hopefully this weekend. Be sure to subscribe to my YouTube channel so you don't miss the updates and I will also try to send out an email letting everyone know when they are caught up.
In the meantime, continue with the studies and listening to the podcasts! If you have any questions you'd like for me to answer – maybe even in an upcoming video, please let me know. You can leave a comment below or email me.
Have a great day and be blessed!
---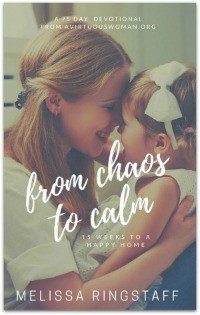 From Chaos to Calm eBook
If you've been struggling with your home, your marriage, your children, or just life in general this might be the answer you have been waiting for! Inside the pages of this ebook you will spend 15 weeks working toward a goal for:
– peace in the heart
– peace in the home
– peace with our husbands
– peace with our children
---
From Chaos to Calm: Day Nine
Your Desire Shall be for Your Husband
Scripture Memory: "Thy desire shall be to thy husband, and he shall rule over thee." Genesis 3:16
Download the .pdf version of this article.
When a woman first meets the man she falls in love with, her heart is full of excitement, joy, peace, and passion. She counts the minutes until she sees him again. She longs for him to be by her side in all that she does. She does little things for him that she knows will make him happy. She flirts and smiles and is generally pleasant to be around.
So what happens once she has been married for a while? Suddenly, his little quirky behaviors that she once thought were "cute" are not cute any more. Over the course of weeks, months, and years she realizes that her knight in shining armor is not so shiny any longer. And suddenly she may feel that she has been short changed.
The woman might not even realize that her feelings toward him have affected the way she treats him. Because he has disappointed her, she no longer wants to run to the door with kisses and warm smiles. In fact, she may come to a point where she avoids his touch and kisses altogether.
Affection and intimate moments may become routine or something that she "must" do to insure that her husband does not "wander." And she may hear her husband complain that she never wants him any more.
In this instance, it is likely that the wife is not always respectful of her husband as we discussed yesterday. This disrespect can lead to more hurt feelings and more feelings of disappointment. Her husband will not feel loved because she rejects his physical love and she does not honor him in his own home.
It will come as no surprise to most married women that as time goes on, often the romance fades. A woman may have a hard working man who comes home every night but if she does not feel that emotional connection, she simply won't feel as inclined to be intimate with her husband. Yet, a husband when he feels that emotional connection slipping away, he wants to reconnect with his wife through physical love and touch.
The Bible tells us, "The wife gives authority over her body to her husband, and the husband also gives authority over his body to his wife. So do not deprive each other of sexual relations. The only exception to this rule would be the agreement of both husband and wife to refrain from sexual intimacy for a limited time, so they can give themselves more completely to prayer. Afterward they should come together again so that Satan won't be able to tempt them because of their lack of self-control. This is only my suggestion. It's not meant to be an absolute rule." 1 Corinthians 7:4-6 (NLT)
If you have a habit of denying your husband the pleasure of your touch and of your body, you are making a mistake! You and your husband need that time together. If your husband is not happy with the amount of lovemaking going on in your bedroom, you need to spend time in prayer over this matter. A husband who is sexually satisfied is a happy husband!
God created sex to be sacred. You are missing out on a true spiritual blessing if you don't make room in your heart for physical connection with your husband. Think about your motives. Why do you usually deny your husband?
If you are tired – every night – perhaps you should go to bed earlier, or take a nap. If you have resentment in your heart, you may not feel like being intimate with him. Why do you resent him? Pray for a forgiving spirit. If you avoid kissing your husband during the day, ask yourself why?
Do not withhold your love from your husband. Ask for God's blessing on your marriage as well as those intimate moments. Surprise your husband with a night he will remember. Try some of the following suggestions:
Greet him at the door with a smile a 15 second kiss and a warm hug. Tell him how happy you are that he is home.
Run a bubble bath for him and fluff his towel in the dryer so it is warm when he gets out. Light some candles so he can relax.
Get a baby sitter if possible and have a candle light dinner for him. Make his favorite meal.
Clean your bedroom of all clutter if needed and put fresh scented sheets on the bed. Light candles. Have fluted glasses filled with sparkling cider. Serve him homemade chocolate covered strawberries in bed.
Dress in a pretty night gown and wear a pretty shade of lip gloss. Wear your hair down. Spend at least 30 minutes seducing him.
Wake your husband with a back rub in the morning and a warm breakfast. Help him dress and be sure his clothes are wrinkle free the night before.
Tell him how wonderful he is and how lucky you are to have a hard working man in your life. Make him feel like a king. He might wonder where his real wife went! However, with some time and effort and prayer he will begin to romance you and treat you like his queen!
Ask God to give you a sincere desire to please your husband in and out of the bedroom. Your marriage will be blessed. Use your morning prayer time to focus on your precious husband. Continue to get up early every morning!
Click to Listen:
Press play to listen or click here.
[powerpress]
From Chaos to Calm: 15 Weeks to a Happy Home is a daily devotion – Monday through Friday for 15 Weeks by Melissa Ringstaff. The Audio Podcast gives you extra ideas to go along with the email series or e-book.
Cultivating a Heart of Discipline
Join A Virtuous Woman's community of over 21,000 women where you'll find freedom from perfection and the confidence to live your life with purpose. Get my FREE BIBLE STUDY GUIDE: Cultivating a Heart of Discipline at Home!