The Household Management Notebook {Day 27}
From Chaos to Calm: Day Twenty-Seven
The Household Management Notebook
Scripture Memory: "Every wise woman buildeth her house: but the foolish plucketh it down with her hands." Proverbs 14:1
Download the .pdf version of this article.
Ask yourself this question, "Is there anything you are currently doing or not doing to tear down your household?" Whether it is your critical spirit as we discussed a few days ago, or your procrastinating ways as we mentioned yesterday, everything we do has the ability to tear down or build up our homes.
Today, we are going to begin the journey of putting our households in order. There is much work to be done, however, we will be taking it one day at a time! Creating your Household Management Book will take some time, so don't worry if you feel overwhelmed. It will become your best friend!
In your devotion this morning, ask God to help you build your home up in the ways of the Lord. It is not enough, however, to simply ask God to help you if you are not willing to work cheerfully toward your goal. Rarely in this life, is anything instantaneous. If you have a bad habit, it will take time to change it. The good news is that anything is possible with Christ by our sides!
Today we are going to put together a pretty and functional Household Notebook. I want this notebook to speak to your personality. So, take a few minutes and look around the internet for pretty pictures that you can save to your computer. There are many free graphic websites and photo sites that are in the public domain. Then I want you to open a text file such as Microsoft Word and paste your photo or graphic into the document. Below that you can type in a favorite Bible verse or other saying that you like. Print it out and place inside the clear pocket of your Binder. If you do not have a clear pocket on the front of your binder, you can simply print it on card stock and punch holes in it for the front of your notebook, or place it inside a sheet protector. Or, if you scrapbook, you could make a pretty cover with your papers and embellishments.
I want you to begin printing pages for your notebook. You can find pages for your notebook in the Free Printable section of A Virtuous Woman. Or you can purchase one of my "This is My Life" Planners here.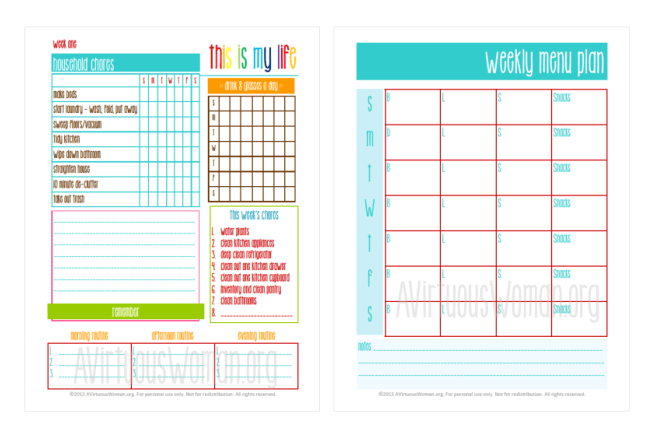 Once you have printed enough for a month, you can punch holes in the pages and place them in you notebook. Your morning and night routines will be key to keeping your home in good order. In fact, the night routine may be the most important part of your day!
In the evening, you need to clean up the kitchen after supper. I have found that by having an early supper, I can get the kitchen clean easier. With small children at home, it is imperative that I have time in the evening to clean up. With bath time, family worship, homework, and other activities that go on, the evening can be one of the busiest times of the day for a family.
So, by preparing ahead, I can have supper on the table at an early hour and get the kitchen cleaned by 6:30. This leaves me free to do a quick clean up around the main areas of the house, enjoy family worship with my children and prepare them for bedtime. Before I go to bed, I can put away any left over dishes, wipe down my counters and sink and go to bed with a clean kitchen – at a decent hour!
In the morning, since I have cleaned my kitchen, preparing breakfast is a breeze and I can easily clean up those dishes in less than 15 minutes. Your Morning Routine should look something like this:
Prayer and Devotion.
Get dressed.
Fix breakfast.
Tidy kitchen and sweep floors.
Make Beds.
Wipe down bathroom sinks.
Wash one or two loads of laundry.
Straighten house quickly.
10-minute declutter of one catch all space.
The above routine, if done consistently, should be completed by 9:00 in the morning at the latest. In your Daily Schedule you can add your other regular chores. We will talk about cleaning the house in a few days. For now, write down those tasks you feel you should be completing on a daily basis and put them into your daily schedule. You may decide to adjust it as time goes on or as circumstances change and that is okay. I am constantly redoing my schedule!
The most important task for now is to get your morning and evening routines down pat. If you can do that, scheduling the rest of your time will be much easier. Remember, God is on your side is always available to listen any time you need to a friend to lean on. (or cry on!)
 Click To Listen
Press play to listen or click here.
[powerpress]
Extra Resources
Free Printable Household Notebook Pages
These pages will get you started. Of course, like I said, you can find lots of Basic Household Notebook pages here.
I'll share more printables for your notebook tomorrow!
Over the next few days I'll be sharing my current household notebook with you. If you'd like to share your household notebook with me, post to Instagram with hashtag #fromchaostocalm and I'll follow you!
Like I said a few days ago, I simply adore Instagram!
Have you used a Household Notebook in the past?
My "This is My Life" Planner