Yesterday we found this abandoned dog – a Great Pyrenees sitting on the side of the road by his dead buddy. Apparently he'd been there for a few days because when we stopped to pick him up, several trucks drove by and people told us they were so glad to see someone help him. His owners had moved away and left the dogs behind.
We rescue dogs on a regular basis, bring them home, clean them up, feed 'em, love on them and find them good homes. But there was something special about this one and we fell in total love with this dog.
So, we'd made the decision to add him to our forever family. Well, we've never had a dog quite this big and we underestimated his strength. I'd wired the kennel door shut, worried that he'd open the door, but it wasn't enough. We woke up this morning to find the door open and the wire snapped in half. He was gone.
You'd think he'd been apart of our family for years. We spent literally the entire day looking for him. It's like he just disappeared. I'm going to call the pound first thing in the morning, but at this point we have little hope of finding him. We also put out flyers around town.
If you'd like to pray for the dog – and especially for my two youngest girls, I'd really appreciate it. My girls are especially heartbroken.
---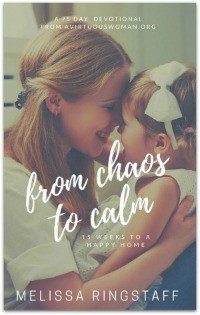 From Chaos to Calm eBook
If you've been struggling with your home, your marriage, your children, or just life in general this might be the answer you have been waiting for! Inside the pages of this ebook you will spend 15 weeks working toward a goal for:
– peace in the heart
– peace in the home
– peace with our husbands
– peace with our children
---
From Chaos to Calm: Day Eleven
Do You Have a Critical Spirit?
 Scripture Memory: "She will do him good and not evil all the days of her life." Proverbs 31:12
 You can download the .pdf version of this devotion here.
     Let's be honest here. How often are you critical of your husband? This is such a huge issue for many women. I have seen women too often demoralize their husbands. Women may become so used to criticizing their husbands that it seems to be the only way they relate to their husbands.
     It can be hard to point the finger back at ourselves. Admitting that we have failed our husbands is not an easy thing to do! But admitting we need to change is the first step in becoming better wives – better women in Christ!
     Think about these situations:
Your husband is talking and you correct him.
You husband has an idea and you tell him it is dumb.
You are out with your friends and all you can do is complain about how your husband never meets your needs, never helps around the house, or is clueless when it comes to being a dad.
You don't allow your husband to speak for himself.
You tell your husband what to do as in, "I'm the boss and you are not."
You object when your husband disciplines the children.
You disrespect your husband in front of the children.
You call your husband unkind names.
You belittle his efforts to provide for you.
You do not honor your husband's simple requests like, "Would you iron my shirt?"
You roll your eyes when he tells you something.
You sigh and roll over when he attempts to be close to you at night.
You say, "I didn't ask you."
You say, "You don't know what you are talking about!" or "Why don't you just be quiet?"
You are lazy at home while he is at work and dishonor him.
     These are just a few situations that may have come up in your married life. Take a good look at yourself today and determine to speak in a way that will uplift him daily. The Bible says, "Pleasant words are as an honeycomb, sweet to the soul, and health to the bones." Proverbs 16:24. Bless your husband with goodness all the days of his life.
     Today, I want you to pray about your own attitude toward your husband. Whether you are critical only on occasion or to the point you have been verbally abusing your husband, having a critical spirit is never pleasing to the Lord. Ask God for forgiveness. In your prayer journal, I want you to list some of the ways you have recently been critical of your husband. Then, I want you to list at least ten ways you can show your husband respect him. Ask God to help you see the good in him instead of the bad. Last, I want you to kneel before your husband and ask his forgiveness. Tell him how much you love him and strive to bite your tongue before you speak.
"The thoughts of the wicked are an abomination to the LORD: but the words of the pure are pleasant words." Proverbs 15:26
Click to Listen:
Podcast: Play in new window | Download
From Chaos to Calm: 15 Weeks to a Happy Home is a daily devotion – Monday through Friday for 15 Weeks by Melissa Ringstaff. The Audio Podcast gives you extra ideas to go along with the email series or e-book.
Here are some images you can pin to Pinterest or use on your own blog: (Of course, you are welcome to use the image above as well!!)
How do you encourage your husband? Do you have any questions? Ask me!