From Chaos to Calm Devotional Series & eBook
From Chaos to Calm: 15 Weeks to a Happy Home
Are you ready for some peace in your heart and peace in your home?
If you have been struggling with your home, your marriage, your children, or just life in general this might be the answer you have been waiting for! We will spend 15 weeks working toward a goal for:
peace in the heart
peace in the home
peace with our husbands
peace with our children
"Then they cry unto the LORD in their trouble, and he bringeth them out of their distresses. He maketh the storm a calm, so that the waves thereof are still. Then are they glad because they be quiet; so he bringeth them unto their desired haven." Psalm 107:28 – 30
Each week we will focus on a different goal building upon each one as we go. So get ready!
Note: This 75 Day Devotional is designed to be read Monday – Friday, but you can go through the series however best fits your schedule!
---
Buy the eBook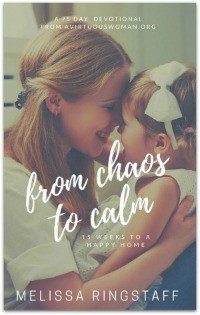 I have had so many requests for this series to be available in e- book form. I'm so excited to announce it's finally available!
Inside the eBook, you'll find all 75 daily devotions in an easy to read, PDF format, that will help you find peace in your heart and peace in your home.
BUY NOW: You can purchase the ebook here.
---
From Chaos to Calm: 15 Weeks to a Happy Home Challenge
IMPORTANT NOTE: I wanted to explain something… Some of my suggestions in this series, such as getting up early every day before the rest of your family will have exceptions to the rule. For example, if you work odd hours outside the home {third shift, etc.} and need to sleep in the mornings. So, you moms know who you are. And for the rest of us… you know who you are, too! 🙂