God Answers Prayer | Day 7 + Free Printable Prayer Journal
Welcome to Day 7 of our series, From Chaos to Calm: 15 Weeks to a Happy Home. Today we're talking about God's faithfulness in answering prayer. I want you to know no matter what, you can talk to God and He is faithful and just to answer your prayers.
Good morning, Ladies! So on Monday night I had a rare speaking engagement and it just threw me for a loop because you know – I don't do it often. And I was nervous. It went well I think, but preparing for it was nerve wracking.
I hope you slept well last night and that you are ready to meet the day with joy today.
From Chaos to Calm: Day Seven
God Answers Prayer
Scripture Memory: "And Jabez called on the God of Israel, saying, Oh that thou wouldest bless me indeed, and enlarge my coast, and that thine hand might be with me, and that thou wouldest keep me from evil, that it may not grieve me! And God granted him that which he requested." 1 Chronicles 4:10
Have you ever felt that when you pray God does not hear you? I think if people understood how powerful prayer is, they would use it as a first defense instead of a last resort.
There is so much more to prayer than simply taking your pleas before God. Prayer not only offers us a chance to lift up our concerns, ours fears, and our requests to God; it offers us a chance to have a relationship with Him.
When we pray, we have the opportunity to hear God's voice more clearly in our hearts. God wants us to spend time with Him each day. When we pray our faith is strengthened, our attitudes are adjusted, and our prayers are laid before the Father. I love the acronym ACTS for praying:
Adoration. When we bow our heads, the first words we utter should praise His holy name. How mighty and glorious HE is!
Confession. After our praise and adoration, we should be thinking about our own sins. How have we messed up this time? We need to repent and wipe the slate clean. We need to ask forgiveness on a daily basis. Ask for help each day so that you will be better prepared for the temptations coming your way.
Thanksgiving. You have been so blessed! Acknowledge the blessings God has bestowed upon you. Thank Him for the riches in your life.
Supplication. And finally we can lift up our petitions before God. Whether we are praying for a family member who is lost, praying for our own attitudes, praying for our children, asking God to help in daily matters and concerns – He wants us to bring our worries to Him.
This is where our Scripture Memory for today comes in. Re-read the prayer of Jabez again. And think about it for a moment. Notice specifically the final part of the verse which says, "And God granted him that which he requested."
Jabez was in need of God's divine help. We are not told much more about this man. We know his mother bore him in pain (verse 9) and called him Jabez which means sorrow. We also know that he was more honorable than his brothers. His prayer is listed in the midst of a long record of genealogy. Yet, there was something special about this man that stood out causing his prayer to be recorded.
God answered the prayer of Jabez and He wants to answer your prayers, too! God wants to bless your life. Prayer is so important. Don't negate the importance of your Morning Manna. You need that time with God, alone and in the quiet.
If you have not committed large numbers of Scripture to your memory, you need to begin. When you have God's Word hidden in your heart, it is like carrying around the "Sword of the Spirit which is the Word of God." We are told to put on the armor of God and His Word will help us in our daily battles.
His Word will also help us in our prayers. If we use Scripture promises in our prayer time, our prayers will be made that much stronger. So continue to use your prayer journal. Write your verses down in the journal. Read them each morning. Hide them in your hearts. Use them in your prayers. And trust that, like Jabez, your prayers will be heard and God will grant you the desires of your heart. (Psalm 37:4)
Click to Listen:
Press play or click here to listen.
From Chaos to Calm: 15 Weeks to a Happy Home is a daily devotion – Monday through Friday for 15 Weeks by Melissa Ringstaff. The Audio Podcast gives you extra ideas to go along with the email series or e-book.
---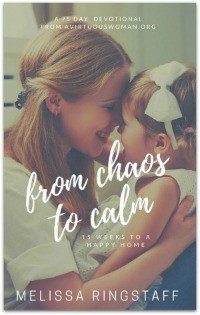 From Chaos to Calm eBook
If you've been struggling with your home, your marriage, your children, or just life in general this might be the answer you have been waiting for! Inside the pages of this ebook you will spend 15 weeks working toward a goal for:
– peace in the heart
– peace in the home
– peace with our husbands
– peace with our children
---
How has God answered your prayers? Do you keep a record of answered prayers? Are there prayers you are still waiting to be answered?
Free Printable Prayer Journal
How to Get the Printable
Just fill out the form below and you'll receive an email giving you instant access to this free printable.
If you are already a subscriber, filling out the form won't affect your subscription, but you will receive the link to get the printable!
If you're a member of the Homemaker's Circle, this printable can be found inside of the membership! If not, you can join today for as little as $1.00 a week and get instant access to over $500 worth of digital products and homemaking classes including The Disciplined Homemaker and A Time to Clean!
Why should I subscribe?
access to my subscriber exclusive resource library
exclusive coupons and sales to my shop
updates, challenges, freebies, and exclusive offers
instant access to subscriber exclusive printables