The Heart of Her Husband {Day 12}
From Chaos to Calm: Day Twelve
The Heart of Her Husband
Scripture Memory: "The heart of her husband doth safely trust in her, so that he shall have no need of spoil." Proverbs 31:11
You can download the .pdf version of this article here.
Trust
Trust is a powerful influence in our marriages. When we commit our lives to one man, we have made a commitment to be trustworthy. The most obvious form of trust in a marriage involves the bounds of monogamy. We trust that our spouse will remain faithful physically as well as emotionally to us.
This means that as wives, we will not allow ourselves to become involved with other men in any manner which would bring harm to our marriage relationship. The easiest way to not have an emotional or even physical affair is to never be alone with another man. Never confide your problems in another man. If you become emotionally dependant on someone other than your husband and God you are setting yourself up to be led astray. Remember that your husband is the head of you, just as Christ is the head of the church.
If you do become involved with a man other than your husband you will cause him pain, dishonor, hurt, and he will no longer trust you. You will risk losing your husband as well as your children and everything you hold dear. It is much better to simply "play it safe" and stay away from danger!
While adultery is one of the most painful forms of breaking trust there are many other ways we can cause our husbands to not trust us.
Are you dependable?
Can your husband know that if he needs to bring a co-worker home that the house will be reasonably neat? We will be looking at this in depth in a few days, but for now simply think about it. If your husband goes to work each day, can he trust that you will take care of your duties to the best of your ability?
If your husband asks you to make a phone call, do you forget? Do you think ahead and make plans to iron his shirts before they are needed?
Can he trust that your moods will remain relatively even most of the time and that he knows what to expect when he comes home? Or must he wonder what is in store for his arrival?
Do you make sure that basic items in your home are stocked for use? Do you run out of toothpaste or toilet paper unexpectedly? Do you have on hand his favorite drink or snacks if this is what pleases him?
Are you unorganized and lose papers, bills, or other documents on a regular basis? Do you fight to find socks or lose his favorite shorts in the pile?
Are you a thoughtful mother?
A husband knows his wife loves him by how well she treats his children. If you are always at your wits end, frustrated, yelling, crying, or just plain too busy to pay attention to the children what message is your husband receiving?
Do you insure that your children are clean and well groomed?
Do you speak softly and lovingly to your children when they need correction or do you punish them out of anger?
Do you feed your children well, or are you sloppy with their nourishment?
Do you train your children in the Lord's way, or do you find it to be too hard?
Do you spend money unwisely?
So many women are guilty of spending money on wasteful items that bring little enjoyment, little value, and little worth to their homes.
Can your husband trust you to look for ways to save money on groceries? Can he trust you to do your best to see that food is not wasted due to not preparing it before it spoils or due to not using up what is left over?
Can your husband trust you not to spend too much money on food items that are weak and provide little to no nutrients for your family?
Can your husband trust you not to spend money lavishly on clothes, household items, or entertainment simply because you love to spend money? Or do you find yourself inventing ways to use up the money you have?
Can your husband trust you not to run him into debt?
As wives we should endeavor to be trustworthy in running our households – whether that means shopping for new clothes and groceries, caring for the little ones, or caring for our husbands needs.
Today, I simply want you to make a note of a few things you know you have been lacking on your part that might cause your husband not to trust you completely. We will be talking more about making lists and how list making can help you later in the challenge.
For today, make a list of things you need to remember – husband's dry cleaning, children's doctor's appointments, groceries, etc. Keep it in a handy place, such as the kitchen counter or up on the refrigerator. Go back to it as often as possible to insure that you will not forget the little things that can mean so much.
Pray for a dependable spirit. Ask God to make you a trustworthy mate for your husband and for the will power to be reliable.
Click to Listen:
Press play to listen or click here.
[powerpress]
From Chaos to Calm: 15 Weeks to a Happy Home is a daily devotion – Monday through Friday for 15 Weeks by Melissa Ringstaff. The Audio Podcast gives you extra ideas to go along with the email series or e-book.
---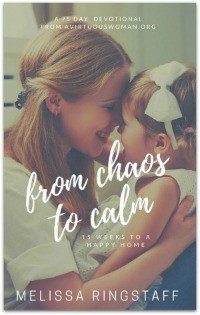 From Chaos to Calm eBook
If you've been struggling with your home, your marriage, your children, or just life in general this might be the answer you have been waiting for! Inside the pages of this ebook you will spend 15 weeks working toward a goal for:
– peace in the heart
– peace in the home
– peace with our husbands
– peace with our children
---
Here are some images you can pin to Pinterest or use on your own blog: (Of course, you are welcome to use the image above as well!!)
How do you keep your husband's trust?