The Whole Duty of Man – or Woman! | Day 6
Welcome to Day 6 of our series, From Chaos to Calm: 15 Weeks to a Happy Home. Today we're talking about how our obedience to God.
Hi ladies! How was your weekend? We spent Sabbath afternoon at the lake. Summer is waning and I'm trying to squeeze every last bit of it out!
I'm speaking to the Harlan County Arts Council on Monday evening about life, writing, and blogging and preparing for it has taken much more time than I expected. If I get a video up today, it'll be posted late. I'm so sorry – I hope you understand. There's only so many hours in the day!
I'm excited about this week. Last week was amazing and I know lives were touched. I hope you'll let me know how things are going and be sure to leave a comment so we can chat!
---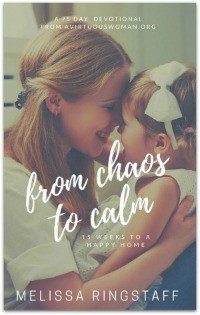 From Chaos to Calm eBook
If you've been struggling with your home, your marriage, your children, or just life in general this might be the answer you have been waiting for! Inside the pages of this ebook you will spend 15 weeks working toward a goal for:
– peace in the heart
– peace in the home
– peace with our husbands
– peace with our children
---
From Chaos to Calm: Day Six
The Whole Duty of Man – Or Woman!
Scripture Memory: "Let us hear the conclusion of the whole matter: Fear God, and keep His commandments: for this is the whole duty of man. For God shall bring every work into judgment, with every secret thing, whether it be good, or whether it be evil." Ecclesiastes 12:13,14
Think about the verse above for a moment. What is God telling us?
It is our WHOLE duty to fear God (show Him due respect and reverence) and keep His commandments (God's eternal moral law found in Exodus 20). Sounds pretty easy, right?
Not really.
In fact, the closer I come to Jesus the more wretched I realize I am! I see my own sin sooo much clearer now than I did even 5 years ago. Years ago, I would have thought nothing of losing my temper or watching a violent movie, or being lazy. Today, I realize that those things are just as much a sin as stealing or worshiping a false idol.
The closer you come to Jesus the more you will desire to keep His commandments. Jesus said, "If you love me, keep my commandments." (John 14:15). As followers of Christ, we delight to do His will, we want to keep His law.
"For this is the love of God, that we keep his commandments: and his commandments are not grievous." 1 John 5:3
So, how do we come to a point in our lives where His commandments are not a burden?
Daily Prayer
This has been part of our homework each day. By now you should be feeling better about getting up early in the morning for prayer and devotion. A daily gathering of manna for the soul. Having an early morning prayer sets the tone for the day and gives you the strength you need to get through the day as a virtuous woman.
Through daily prayer, you will begin to see peace take over your heart where turmoil used to reside. You will begin to feel contentment where dissatisfaction used to creep up. You will begin to understand God's purpose for your life.
God has a plan in mind for your life – the perfect plan! It is up to you to seek out His plan for you. And while you begin to live a life of prayer, you will begin to see sin in its natural state.
In Isaiah chapter 1 our sin is likened to putrefying sores. (Verse 5, 6) In our sinful state, we are like the desolate city that has forsaken our King of Kings. It is time to acknowledge our sin and do away with it!
Praise God that He loved us enough to send us a precious Savior, Jesus Christ! Verse 18 – 20 says, "Come now, and let us reason together, saith the LORD: though your sins be as scarlet, they shall be as white as snow; though they be red like crimson, they shall be as wool. If ye be willing and obedient, ye shall eat the good of the land: But if ye refuse and rebel, ye shall be devoured with the sword: for the mouth of the LORD hath spoken it."
God wants us to come to Him with our sin and repent. He wants us to delight in His will and have His law in our hearts. If we repent of our sins and follow Him our sins will no longer be scarlet, but covered by the blood of Jesus, they will be white as snow.
We all have our own weaknesses, our own temptations, our own struggles. We all have a purpose set before us to follow His will for our own lives. Through daily prayer, our character will develop into something beautiful – something like the woman of Proverbs 31.
Daily Study
Learning to follow God's commands is a lifelong journey. Having a meek and quiet spirit that is filled with His likeness comes through prayer and the studying of His Word. If you are not in God's Word on a daily basis you are missing a tremendous blessing! There is so very much to learn through God's Word. There are so many lessons, so many revelations that can only fully be understood if you are really reading and studying the Word of God for yourself.
It is good to go to church each week and listen to the Bible Study and hear the pastor preach. You should be doing that! However, I counsel you to be diligent in your search of the Scriptures on a daily basis – for yourself. Keeping God's commandments is made so much easier if you understand what He expects of you. The lessons we learn from the many stories of the Bible are too numerous to count.
What is so amazing to me is that often, I may have read a story over and over again through the years, and then read it again and come away with a completely new insight on what God is saying. You can never know enough about the Bible or God. There will always be much to learn.
If you find the Bible hard to read, try getting a good version that is easier to read. Or, I recommend purchasing the Bible Story Books (1). They are written to read aloud to children and are perfect for family worship at night. However, you could even read these to yourself during your devotion time.
Another wonderful tool for learning the Bible for you and your whole family is the Your Story Hour CD's (2). Wonderful hours can be spent in the car, doing housework, or in the evening before bed listening to the stories of the Bible acted out. Doing either of these might be just what you need to get excited about the Bible and how it applies to your life today!
Daily Living
You know, it is not enough to pray and study if we don't take those lessons we have read and those lessons God has spoken in our hearts with us throughout the day. We need to practice what we have learned! We need to make ourselves – however difficult at times – to follow through. Whether we have been convicted to speak with love or convicted not to watch soap operas or to have patience with our children (just as Christ is with us) we need to take those convictions – those lessons – and put them into play.
By putting into practice those lessons we have learned, we will begin to live a sanctified life, a life of obedience. We will begin to understand what it means when the Bible says that the whole duty of man is to fear God and keep His commandments.
This does not mean we will never have a setback or mess things up royally. When we do, we should go to our loving Father, yet again, and ask for forgiveness and strength to do better in the future. It IS possible to live according to His law and His will for your life. It may not always be easy or fun but it will always be worth it in the end.
Foot Notes:
Bible Story Books are available online at: www.thebiblestory.com.
Your Story Hour CD's are available online at: www.yourstoryhour.org or you can contact them at: Your Story Hour, P O Box 15, Berrien Springs, Michigan 49103 or call them at: (800)-987-7879
Click to Listen:
Press the play button or click here to listen.
From Chaos to Calm: 15 Weeks to a Happy Home is a daily devotion – Monday through Friday for 15 Weeks by Melissa Ringstaff. The Audio Podcast gives you extra ideas to go along with the email series or e-book.
What is God impressing on your heart today? Have you felt called to strive for higher ground?
Free Printable Praise Prayer Journal
You'll receive a free printable Praise Prayer Journal with 64 pages to print!
front cover
back cover
30 days of journaling pages (2 pages per day)
BONUS: free phone wall paper
Peek Inside the Praise Prayer Journal
How to Get the Printable
Just fill out the form below and you'll receive an email giving you instant access to this free printable.
If you are already a subscriber, filling out the form won't affect your subscription, but you will receive the link to get the printable!
If you're a member of the Homemaker's Circle, this printable can be found inside of the membership! If not, you can join today for as little as $1.00 a week and get instant access to over $500 worth of digital products and homemaking classes including The Disciplined Homemaker and A Time to Clean!
Why should I subscribe?
access to my subscriber exclusive resource library
exclusive coupons and sales to my shop
updates, challenges, freebies, and exclusive offers
instant access to subscriber exclusive printables