Wives Submit to Your Husbands | Day 8
Welcome to Day 8 of our series, From Chaos to Calm: 15 Weeks to a Happy Home. Today we're talking about a subject that is often controversial and very much misunderstood. What does biblical submission really mean?
I'm sorry today's post is up late! I basically blog in the in-between times of my life. And last night it just didn't happen! By the time we got home from our community choir practice it was almost 10:00 and then I had to get my girls ready for bed and I didn't sleep well the night before – tossed and turned all night – so I was exhausted and couldn't keep going. Tuesdays and Wednesdays are super busy days for me, which means I usually try to get my blogging for the week done on Sunday and Monday. It just didn't happen this week so I may just be behind for a couple days!
From Chaos to Calm: Day Eight
Wives Submit to Your Husbands
Scripture Memory: "Ye wives, be in subjection to your own husbands; that, if any obey not the word, they also may without the word be won by the conversation of the wives." 1 Peter 3:1
You can find the rest of this 75 day series here.
I want you to really look at your marriage. In your prayer journal write down at least ten things you love about your husband. Then write down a few things in your marriage you know could use some work. Ask God to show you how YOU can change to make your marriage better.
Remember, this week is not about how to change your husband so you have a happy marriage. It is about how YOU can change to become the wife your husband needs you to be as well as how you can become the wife God wants you to be.
In Genesis 3:16, after the fall of man, we find God speaking to Adam and Eve, giving them instructions about what was to come when they left their garden home. God addressed Eve and told her that her desire would be for her husband – and that her husband would rule over her.
Before you bristle with thoughts such as – "BUT, we are equals!" 0r "NO ONE rules over me!" or "There is no way I will ever let anyone walk all over me!" – I want you to just sit and be quiet for a few minutes and really think about it. This is God's design for a happy marriage. God's ways are not our ways. The Bible says, "He that keepeth the commandment keepeth his own soul; but he that despiseth his ways shall die." Proverbs 19:16
Here in the very beginning of time, God has commanded the woman to desire her husband and submit to him. This can be so hard, I know! However, the blessings that come when you submit to your husband are plentiful.
Please Note: Submission does not mean that you allow your husband to verbally or physically abuse you. Submission does not mean that you do everything your husband says if he is asking you to break God's law. Submission does not mean your husband does not have an obligation to treat you with love and respect. Submission isn't about your husband having power over you.

It simply means you allow your husband to lead and you show him respect. 
You are to respect your husband in your daily living. As a Godly wife, you will not nag him, talk down to him, treat him like one of the children, or even make fun of him.
You should never correct your husband in public. If he is telling a story and he gets a point wrong, fight the urge to show how much smarter you think you are! Allow him the freedom to talk without correction.
Today's Scripture memory says, "Ye wives, be in subjection to your own husbands; that, if any obey not the word, they also may without the word be won by the conversation of the wives." 1 Peter 3:1
When you show your husband respect you are ultimately setting a Christ like example to him. By showing him respect, his own heart will be converted. How powerful that verse above is! You have the power to win your husband to Christ! Simply by showing him respect, honor and love!
Men feel loved when they are respected. Allow your husband to wear the pants! Have you ever seen a couple that you just know the husband is "hen pecked?" In this type of relationship, the wife often comes across as bossy, arrogant, and in control. Whereas, the husband comes across as wimpy, sheep-like, and beaten down. Not very attractive, huh?
In your daily prayers ask God to show you how to be submissive toward your husband. Ask him to show you when you step out of bounds. In my house, my husband is the boss – even if I do not agree with him. Funny enough, every time I have been disagreeable about an important decision he has made, God has shown me how wrong I was when I look back and realize my husband made just the right decision! It can be humbling!
If your husband makes chronically bad decisions, poor choices, or is undisciplined in his life, pray for him. Ask God to give your husband wisdom in his daily experience. Ask God to bless him with sound judgment. Ask God to show him when he errs. If a husband makes a bad decision and has to face the consequences, i.e. losing money on a deal, there will be little need for you to say, "I told you so! How could you be so stupid!" He will already know.
How much more loving would it be for you to instead say, "Let's pray about this together. I am sorry things didn't go the way you envisioned." And follow up with daily prayer for him during your morning prayers.
I want you to end your devotion with a special prayer for your husband. Write it down in your journal. You might want to pray about:
his day
his work
his health
his mind
his integrity
his self-worth
Finally, pray for your own wisdom – that you might be the wife your husband needs you to be.
More Resources:
Click to Listen:
Press play to listen or click here.
[powerpress]
From Chaos to Calm: 15 Weeks to a Happy Home is a daily devotion – Monday through Friday for 15 Weeks by Melissa Ringstaff. The Audio Podcast gives you extra ideas to go along with the email series or e-book.
---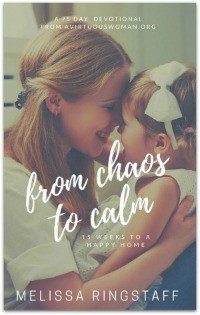 From Chaos to Calm eBook
If you've been struggling with your home, your marriage, your children, or just life in general this might be the answer you have been waiting for! Inside the pages of this ebook you will spend 15 weeks working toward a goal for:
– peace in the heart
– peace in the home
– peace with our husbands
– peace with our children
---
Do you struggle with this issue? How do you show respect to your husband?
Free Printable Prayer Journal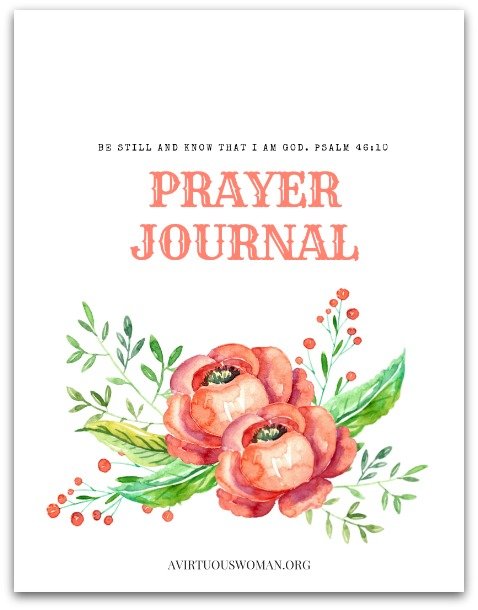 How to Download
Just fill out the form below and you'll receive an email giving you access to my subscriber exclusive resource library where you'll find this and many more resources for your home and family!
You'll find this sweet Prayer Journal in the Abundant Living section of the library.