A Foundation of Faith for the Christian Homemaker
Everything we do as Christian homemakers is built upon a solid foundation of faith. It's within the walls of our home that we practice and learn what it really means to be a Christ-follower. Today I'm talking about how we can build that foundation of faith at home and live that faith out daily.
30 Days Of Intentional Homemaking: Day 5
Families need women who make home a special place to live, learn, and grow. There is no other job that presents as many opportunities for shaping (for the good or the bad) the future of our country – of our world – than that of a homemaker.
Each of us is a homemaker. Whether you work outside the home or stay home full time, you are a homemaker. Whether you live with a big boisterous family or it's just you and a couple of children – or just you and your husband – or even just you -, you are a homemaker. We've all been called to the ministry of homemaking.
You can find the rest of this series here.
As we look at the passage of Proverbs 31 we see all kinds of attritbutes: she's a hard worker, she loves her husband, she looks well over her household, she is a smart shopper, and she is a good mom.
Proverbs 31:30, 31 says, "Charm is deceptive, and beauty is fleeting; but a woman who fears the Lord is to be praised. Honor her for all that her hands have done, and let her works bring her praise at the city gate."
A woman who fears the Lord is to be praised.
"For what shall it profit a man, if he shall gain the whole world, and lose his own soul?" Mark 8:36

We can strive to have the perfect homes, be the perfect wife, or be the world's greatest mom. Perfection is elusive and not something we should probably chase. I've said it before: Striving for an ideal, perfect life is unrealistic this side of heaven.
As homemakers we are called to live a life of purpose based on the faith we hold dear. We are not called to be perfect. Without a solid foundation of faith, everything we do is for naught. Nothing else really matters in the grand scheme of things.
For the Christian homemaker, homemaking is about more than just keeping a neat house and tidy belongings. It's about creating an atmosphere where faith permeates the walls. It's about nurturing your family's love for God so that they have a foundation that holds strong when they go out into the world.
Preparing our families for eternal life is the most important task you will ever be given. And the role you play in your home has a tremendous amount of weight when it comes to how your family sees Jesus. It's important that you work on your own foundation of faith so that you can inspire others to live for Jesus.
"Anyone who listens to my teaching and follows it is wise, like a person who builds a house on solid rock. Though the rain comes in torrents and the floodwaters rise and the winds beat against that house, it won't collapse because it is built on bedrock. But anyone who hears my teaching and doesn't obey it is foolish, like a person who builds a house on sand. When the rains and floods come and the winds beat against that house, it will collapse with a mighty crash." Matthew 7:24-27.
When we build a strong foundation of faith, we will be better prepared – and our families will be better prepared to face the battles of temptation and heart ache that come our way. Satan is not content for us to worship our Savior. He wants to wear us down so that we fall when things get hard. He wants our children to follow in his footsteps. As we build our homes on a solid foundation of faith, we are helping to safeguard each one who lives there. There is no guarantee that our children will walk in faith, but children who come from a solid foundation of faith are much more likely to follow that same path when they leave home.
3 Ways to Build a Foundation of Faith
#1 Prayer and Bible Study
Spend time each day talking to God your Father. He wants to hear from you. And spend time in His Word each day so that you can hear Him speaking to your heart! Study the Bible and understand what you believe and why you believe it.
#2 Family Worship
Not only should you be spending personal time in prayer and study, spend time each week worshiping together as a family. You can spend time in worship at the dinner table while everyone is already sitting together or you can have a special time and place to gather. Whatever method you choose for family worship time, try to make a it a habit. Good spiritual habits help us build strong foundations of faith!
related: How to Get Started with Family Worship
#3 Go to Church
It can be easy to fall into the mindset that we don't really need to go to church. I mean, I can worship at home too! But going to church helps hold us accountable, it helps us build relationships with other like minded believers, and offers us a way to minister to those outside our home.
Homemaking is about so much more than just keeping house. It's about the relationships we build inside the walls of our home. It's important that we remember how important a strong foundation of faith is so that we are wise and not foolish in the days to come.
The Proverbs 31 Woman offers us a look at how amazing women really are. A woman's gifts are endless and we have so much to offer this world. But let us not forget to hang on to Jesus because it's His covering of blood that saves us, not the work of our hands.
Action Steps to Take Today
Pray! As homemakers every thing we do should be as unto the Lord. Prayer keeps us close to the heart of God.
Remember that, you always have enough time to start your day with God – even if it's just a quick prayer before your feet hit the floor.
Make time today to open your Bible and read a verse or a passage.
Download today's workbook pages – it includes some pages for your Bible reading time!
And if you want to keep track of your Daily Bible Reading, fill out the form below to get my Daily Bible Reading Charts.
Free Printable Daily Bible Reading Charts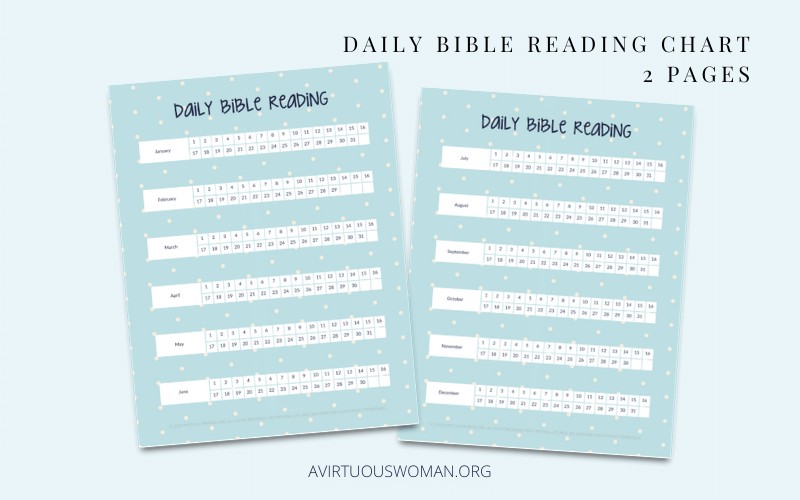 How to Download
Just fill out the form below and you'll receive an email giving you instant access to my free printable Daily Bible Reading Chart.
If you are already a subscriber, filling out the form won't affect your subscription, but you will receive the link to download!
Why should I subscribe?
access to my subscriber exclusive resource library
exclusive coupons and sales to my shop
updates, challenges, freebies, and exclusive offers
instant access to subscriber exclusive printables