How to Be an Encouragement to Your Husband | Day 10
Welcome to Day 10 of our series, From Chaos to Calm: 15 Weeks to a Happy Home. Today we're talking about how important it is to be an encouragement to your husband.
From Chaos to Calm: Day Ten
Be An Encouragement
Scripture Memory: "She will do him good and not evil all the days of her life." Proverbs 31:12
You can download the .pdf version of this article here.
I want you to really look at the verse above. This is such a powerful and important verse. As a wife, this pertains strictly to you! We will be focusing on this verse for the next few days. Be sure to copy it into your prayer journal and read it daily! You might even want to print it onto a pretty piece of paper and stick it up on your refrigerator or bathroom mirror or someplace where you will see it often during the day.
related: Praying through Proverbs 31 | a Proverbs 31 Prayer
I love the chapter of Proverbs 31. It reminds me of who God wants me to be – not who the world would have me be. "She will do him good all the days of her life."
I should ask myself this question each evening – Have I blessed my husband today with goodness or have I treated him poorly today? Reflect on that thought in the evening and if the answer is not one you like, wake up the following day with a determination to change.
Today, I want to focus specifically on encouragement. Are you an encouragement to your husband? When your husband goes out into the world and works hard, he is often bombarded by negativity. He may work with people who are not Christians. He may hear foul language on a regular basis. He might even be faced with temptations through out the day that you are completely unaware of.
When he comes home is he faced with more of the same? Do you rebuke his efforts to provide a good life for your family by being disgruntled in the evening and having a "woe is me" attitude?
Pay attention to the things you say. If you have complaints about your day, take them to the Lord in prayer. Do not unload them on your husband as soon as he walks in the door. No one wants to come home to a list of unfortunate events.
You may have had a bad day. But what impression are you giving your husband if all you do when he walks in the door is cry, pout, or complain about:
the unruly children
the mess in the house
the toilet that the two year old clogged
the fact that you were lonely
the lack of material possessions you want
the fact that you think he should be making more money
and the list could go on and on and on!
If you need to talk about something hard, give him time to relax and ask him when would be a good time to talk.
Remember how you believed in him when you first got married? You believed he was a great catch. You believed he would provide well for you. You believed that he would conquer the world for you.
Instead of complaining about all that you wish you had or your frustrations as a mother, try encouraging his efforts with words of comfort and love.
The Bible says, "…love one another with a pure heart fervently…" (1 Peter1:22). If he has had a bad day – don't make it worse when he comes home. Greet him with a smile – regardless of how bad your day was! Thank him for working so hard. Tell him you believe in him when no one else does. Demonstrate your love by caring gently and patiently with your children – this will encourage him.
A man's life is rarely easy. Home should be a respite from the demands of life. Bless him with goodness. Welcome him home to peace and love and gentle words. Learn to be content with what he has been able to provide.
When you complain about the old furniture or complain about not having the latest fashions or when you complain about not having a nice car or even complain about his job – you are dragging him down and not being an encouragement.
Usually, a husband who has a pleasant wife is a husband who desires to give her the world. He may never be able to afford the luxuries the world has to offer, but the desire will be there. He will want to better their life the best of his ability and God given talent. When you squash that desire you have essentially taken away something priceless that no amount of money can buy.
related: Anger and Emotional Abuse within Marriage
Whether you husband is out of work, frustrated at work, wishing he could do better for you – you need to realize that so much of his identity is tied to his work. If he feels that nothing he does pleases you, he will become even more frustrated. So, remember to encourage his spirit with appreciation and kind words. Also, remember to be sympathetic to his troubles. Have an understanding heart. Believe in him, encourage him, and he will feel that nothing is impossible!
Click to Listen:
Press play to listen or click here.
From Chaos to Calm: 15 Weeks to a Happy Home is a daily devotion – Monday through Friday for 15 Weeks by Melissa Ringstaff. The Audio Podcast gives you extra ideas to go along with the email series or e-book.
---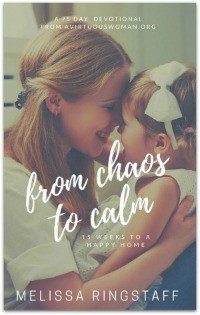 From Chaos to Calm eBook
If you've been struggling with your home, your marriage, your children, or just life in general this might be the answer you have been waiting for! Inside the pages of this ebook you will spend 15 weeks working toward a goal for:
– peace in the heart
– peace in the home
– peace with our husbands
– peace with our children
---
Here's some more inspiration:
Suggested Books
Action Steps to Take Today
Pray and ask God to show you how you can be an encouragement to your husband.
Repent of any unkindness you may have shown your husband that was undeserved and ask God to help you be a kind and loving wife.
Download my free printable 30 Ways to Pray for Your Husband Bookmarks below, if desired.
Think of something nice you can do for your husband today when he comes home from work and then do it!
Free Printable Prayer Bookmarks
How to Get the Printable
Just fill out the form below and you'll receive an email giving you instant access to this free printable.
If you are already a subscriber, filling out the form won't affect your subscription, but you will receive the link to get the printable!
If you're a member of the Homemaker's Circle, this printable can be found inside of the membership! If not, you can join today for as little as $1.00 a week and get instant access to over $500 worth of digital products and homemaking classes including The Disciplined Homemaker and A Time to Clean!
Why should I subscribe?
access to my subscriber exclusive resource library
exclusive coupons and sales to my shop
updates, challenges, freebies, and exclusive offers
instant access to subscriber exclusive printables
How do you encourage your husband? Do you have any questions? Ask me!