Easy Menu Planning for the Week | Simple Tips
The Bible tells us that the Proverbs 31 woman is like the merchant ships. But sometimes that seems easier said than done! Today I'm talking about menu planning for the week and how it can make your life easier.
Meal planning is something every homemaker is faced with – whether she plans for the week or scrambles to figure out what to cook 30 minutes before it's time to eat.
Proverbs 31 Prayer Challenge: Day 5
This 21 Day Proverbs 31 Prayer Challenge is based on my post: Praying through Proverbs 31.
Today's prayer challenge: Proverbs 31:14,15
She is like the merchants' ships; she bringeth her food from afar. She riseth also while it is yet night, and giveth meat to her household, and a portion to her maidens.
Today's Prayer:
Dear Heavenly Father,
Like the Proverbs woman, I want to provide well for my family. As I plan our meals and prepare food for my loved ones, help me be wise so they are nourished. Help me to also remember Your Word when You said, "Man shall not live by bread alone, but by every word that comes from the mouth of God." (Matthew 4:4)

Let me not grow weary in caring for my family. Please give me energy to serve them well. I want to wake up ready to meet the day so that I might do your will.
Thank you, Lord, for the many blessings in my life that help me care for my family. We are so blessed!
Amen.
Menu Planning for the Week
Most weeks, I plan out all 21 meals plus snacks for the week. I can't even begin to tell you how much know what we'll be eating each day helps me out! Menu planning for the week is the one task that makes feeding my family easier every day of the week.
By taking an hour or so on Sunday morning to plan out our menu for the week, I get it all done at once – which means I don't have to think about what we're going to eat an hour before every one is starving. Talk about stress relief!
We very rarely eat out and since I homeschool my kids, we are together most of the time and we eat a hot meal for most our meals.
It's important to me that we eat healthy. By planning ahead, I know if beans need soaking or if I need to take a freezer meal out to thaw in the morning. I also know what breads I need to bake for the week and any other preparations that need to be made in order for my family to be nourished at meal time.
Now, don't get me wrong. There are days when the menu plan flies out the window. And on those days I make one of our family favorite "go to" meals. And that's okay, because life doesn't have to be perfect or always go as planned to be amazing.
Menu Planning for the Week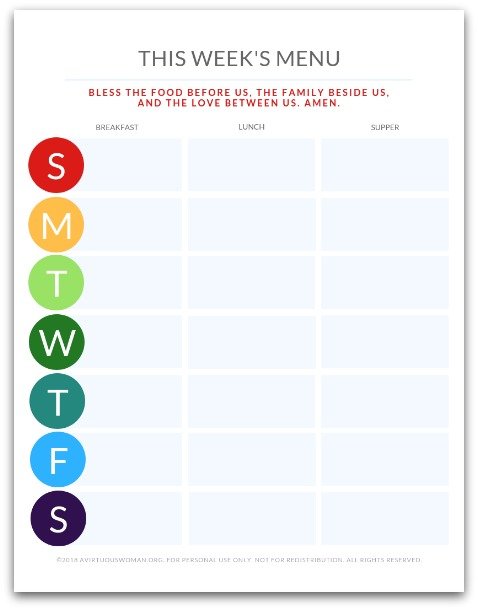 Menu Planning 101
First of all, let's talk about what should go into your menu. If you're like me, you're concerned about the quality of food your family eats and you want to be sure that your family is getting enough vitamins and minerals to keep them healthy.
Giving adequate thought to your menu planning for the week will ensure you feed your family a well balanced diet that nourishes their bodies.
🍎 By the way, if you are new to eating healthy and need some ideas for transitioning to a healthier diet, be sure to read my 5 Tips for Transitioning to a Healthier Diet here.
Think About the Rainbow
When planning your meals, think about the rainbow. You want to choose a variety of foods over the course of the week that are colorful.
You always want to try to choose foods that are different colors in the same meal. When you serve food that is all in the same color family, not only are you missing out on some necessary vitamins, but it doesn't make for a very appetizing plate. Food really should appeal to the eye as well as the stomach!
Also, remember that white potatoes are a starch and corn is a starch so, if you are serving a starch, you really need a green veggie to balance it out.
Family Favorites + Picky Eaters
Every family has their favorites. And some of your family members probably have foods they don't care for. I would encourage you not to indulge your children too much when preparing meals – they shouldn't be allowed to be too picky.
But it is important to not completely disregard your child's preferences either. So, for instance, if you are making Brussels sprouts for dinner and you know your child doesn't really care for Brussels sprouts, make something to go with them, mashed potatoes perhaps, that your child loves.
In my house everyone had to eat at least a few bites of everything I cook. My kids are older now and they will eat pretty much anything I feed them – including beets, kale, spinach, and tofu.
And they ask for seconds.
How Much Time Do You Have?
When menu planning for the week, be sure to take into account what your schedule is like for each day of the week.
So, in our house, we are often gone all day every Wednesday. I know that I need to pack a lunch for everyone on Wednesdays and it's nice if I can make a meal in the slow cooker or take out a freezer meal to heat up when we arrive home in the evening.
Where to Get Menu Planning Ideas
The Recipe Box. Here at A Virtuous Woman, in The Recipe Box, you'll find over 200 recipes (and growing) that are mostly quick and healthy. So be sure to check out all those recipes! Did I mention I love to cook?
Pinterest. If you've been around here for any length of time, you know I love Pinterest. I can't count the number of amazing recipes I've found via Pinterest! In fact, my board Recipes to Try has hundreds of ideas to get you started!
Cookbooks. I have my favorites. You probably have a few favorites, too. And if not… head to the bookstore!
8 Ways to Make Menu Planning Quick and Easy
Eat the same thing every day or on a regular schedule.
Choose recipes that only take a few minutes to prepare.
Choose meals that you can cook without much thought.
Keep breakfast and lunch very basic.
Keep your pantry well stocked.
Have themed dinner nights.
Get help from Eat at Home Meal Planning Service.
related: How to Simplify Meal Planning
Themed Dinner Nights
One way to make it easier to come up with ideas is to assign each day a theme. For instance:
Sunday: Comfort Foods
Monday: Copy Cat Take Out
Tuesday: Crock Pot Meals
Wednesday: Mexican
Thursday: Pasta Night
Friday: Soups and Salad
Saturday: Leftovers
Themed Dinner Nights have so much potential to make your weekly meal planning quick, easy, and fun!
Be sure to check out my Ultimate List of Themed Dinner Nights Ideas here. You'll find lots of recipes and menu plans too!
She is Like the Merchant Ships
The Bible tells us the Proverbs 31 woman is like the merchant ships. I think of grand ships with big, beautiful sails billowing in the wind. Ships coming into the port: bringing in foods, goods, and spices from foreign lands.
That sounds pretty idealistic, don't you think? Do you ever wish going to grocery store was that exotic? What about menu planning for the week? Not so glamorous?
But if we look past the idea of merchant ships and translate those words to today's world, we can see the Proverbs 31 woman in a modern setting. Today, here in America, those merchant ships could be semi trucks that bring our food from around the world to our local grocery store, however humble it may be.
There are certain tasks that every homemaker is faced with every. single. day. Feeding the people you love is one of those tasks. Your family has to eat every single day.
It's easy to feel weary when we spend so much of our time taking care of so much. You pour energy into each day providing meals, love, and nurturing their bodies and souls.
As you take time each week to feed your family and nourish their bodies, remember that without nourishing your soul on the bread of life, you'll eventually run out of fuel.
"And let us not grow weary of doing good, for in due season we will reap, if we do not give up." Galatians 6:9
The Proverbs 31 Woman
Remember, as women striving to be Proverbs 31 Women, meal planning is a noble task. Each time we serve food to our family we are serving the Creator. Each time we sit down and plan for the week ahead we are choosing to live with purpose. Menu planning for the week is one way you can make your day easier.
Printable Weekly Menu Planner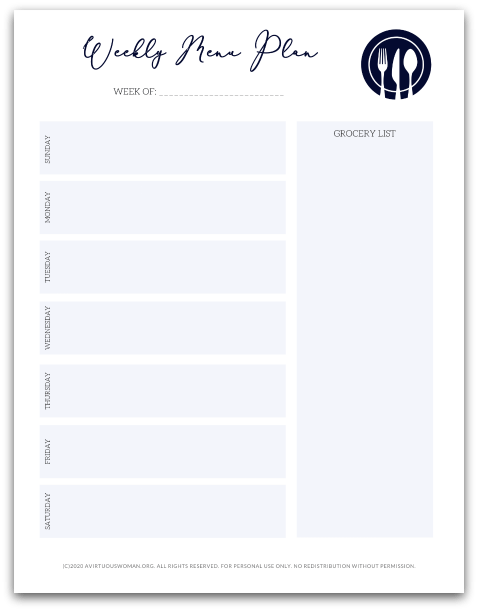 How to Download
Just fill out the form below and you'll receive an email giving you instant access to my free printable Weekly Menu Plan + Shopping List.
If you are already a subscriber, filling out the form won't affect your subscription, but you will receive the link to download!
Why should I subscribe?
exclusive coupons and sales to my shop
updates, challenges, freebies, and exclusive offers
instant access to subscriber exclusive printables