Old Fashioned Homemaking Skills | Forgotten Homemaking Skills
Who doesn't love to walk into a home that smells like fresh baked bread, clean laundry, or warm cookies? The truth is, everyone loves a space that feels cozy and welcoming. Today I'm sharing some old fashioned homemaking skills that just might be coming back into style.
Old Fashioned Homemaking Skills | Forgotten Homemaking Skills
I don't know if you've noticed, but it seems to me that homemaking is coming back into popularity lately. I think people are once again beginning to value the contributions that a homemaker makes to the home.
And with the rise of homemaking, the domestic arts like: having your own garden, canning and preserving food, cooking from scratch, making your own cleaning products, and generally making your carbon footprint minuscule are coming back into fashion. That's a good thing!
The idea of modern homemaking (or even creating your own self-sustaining homestead!) is returning as a viable and meaningful way to spend your time. These oft overlooked areas of home life are once again seeing a resurgence.
Old Fashioned Homemaking Skills
For anyone looking to try some old fashioned homemaking skills, here are a few to get you started:
Housekeeping Routine / Cleaning Schedule
In order to keep your home clean, decluttered, and generally a relaxing place to live, it's important to have a routine. Creating a house cleaning routine can help you stay on top of your chores and maintain a neat and tidy space.
Creating a list or schedule that will guide you methodically through keeping your house at its highest functioning level. Plus, a neat home will help you and your family to also function better. Usually cleaning by room and/or by the job will help you narrow down your duties. Old fashioned homemaking routines are a smart way to care for your home.
related: Purpose 31 Weekly Checklist Binder
Assign specific tasks to each day and assign people to the tasks. Remember, if you aren't the only one living in your home, you aren't the only one who should be completing the tasks!.
It's important to pass on the "how to's" of cleaning to your children so they know how to keep the house in the future. Every child needs to know how to care for a home!
[section content_width="md" height="xs" inner="light" title="Chore Chart Bundle" bg="ffffff"]
Get my Chore Chart Bundle with 14 pages to print for just $4.97! [/section]
Basic Sewing Skills
Whether you plan to only do simple mending or if you'd like to one day make your own clothes, it's important to know the basics of sewing. It's amazing how much money you can save if you choose to mend small holes or repair button malfunctions rather than trash something and buy new.
If you're starting from scratch where sewing is concerned, start with learning the sewing lingo. The next things to learn include threading a needle, knowing about needle size and different types of thread, know how to tie knots for different occasions, sewing in a straight line, different stitches, and how to sew on a button.
Your next challenge after buttons can be reading a sewing pattern. These can be used for hand sewing, but more often for sewing machines. Don't forget to master how to use your sewing machine before trying your hand at simple patterns!
As a young mom, I learned the basics of sewing by trial and error. I didn't have anyone to teach me so I read tutorials and practiced. I created my own patterns and sewed them, learning as I went.
In fact, back in the early 2000's I had my own little sewing business! (little known fact, haha) I sewed baby items like cloth diapers, burp cloths, bibs, and more to make a little extra money. My little business and website was called Snickerdoodles Baby.
Gardening
While it may seem daunting, gardening is one of the best ways to become a self-sufficient homemaker. The ability to make a meal from things you grew yourself is both impressive and delicious.
Gardening is another old fashioned homemaking skill that has been on the uptick this year. I planted my first garden in five years! It's small, but it's mine and I'm proud of it!
Before you start a garden, it's important to know your soil and whether or not you need to compost to create an ideal environment for your plants. Also, track your sunlight to make sure you won't be sorely disappointed by your outcome.
If you don't have space (or dirt) for an in-ground garden, you can always do container gardening instead. The great thing about container gardening is that you can use just about any container you have on-hand.
Square Foot Gardening is also really popular and is a method I've followed before. You can print out my free square foot garden planner here.
This year I've used five gallon buckets for a lot of my plants. I have other plants in raised beds. Most plant varieties will do fine with a 12 inch depth of soil but be sure to read up on the plants you'd like to grow.
Once you have your planting area ready, you can start from seeds (significantly cheaper) or seedlings and plant, plant, plant! Then do some research and find out how much watering is really necessary. Plants die from both over watering and under-watering, so proceed carefully – ask me how I know. 🙁
Be sure to plant what your family uses the most, in order to save money at the store. Start small, if you're unsure, and remember you can always expand your garden in years to come.
Gardening is also a great activity to get your kids involved in and they can learn so much from the experience!
Bread Making
Possibly one of the most daunting of the old fashioned homemaking skills, the only thing standing between you and being an incredible bread maker is practice. Each bread recipe is different than the next, so the best advice for a beginner is to follow the recipe closely.
Baking bread is really a science. It's not hard, but it does take practice to get good at it.
The basic ingredients in bread start with flour, water, yeast, sugar, salt, and fat. Beyond this, the variations are almost endless. With the endless variations come many different ways bread is made. Therein lies the need for practice.
Once you have mastered a few basic pieces of bread, move on to some more complicated ones and see where it takes you. You may find that the process is relaxing and the product rewarding. One of the biggest benefits of making your own bread is that you know exactly what ingredients went into it, so if you have dietary restrictions, you can tailor your bread to your diet.
Here are a few of my tried and true, favorite recipes:
Cooking from Scratch
For anyone looking to eat healthier or wanting to try frugal homemaking, cooking from scratch is a great way to start. It may surprise you, but cooking from scratch is often less expensive than cooking pre-made meals from boxes or the freezer.
The best way to start this habit is to go through your cupboards and see what you could replace with a homemade from scratch recipe. Google is your friend here! Want to know if you can make your favorite boxed scalloped potatoes from scratch? Google a recipe or search on Pinterest!
Next, start meal planning. Find some good beginner recipes and make a list of the items you need. You don't have to start making everything from scratch right away.
In fact, if you're new to scratch cooking, it's best to take it slow! Choose one or two recipes you'd like to switch from boxed to scratch. When those are mastered, you can move on to another recipe.
Remember, batch cooking will help with how much you actually have to cook in a week. Batch cooking involves making more food than just for one meal. Some examples include choosing one day to prep or make all your breakfasts for the week or cooking larger quantities of meals so that you can eat leftovers for lunch.
Also remember that cooking in season will help save you money. Don't use recipes that require produce that isn't in season, or you'll end up spending a lot more. Reserve seasonal recipes for the appropriate season and you'll get to look forward to them every year.
Cooking from scratch takes practice. Freestyle cooking will take even more practice but will help you learn to use what you have on-hand and have less waste. Don't forget to have some healthier convenience foods on-hand, so you aren't going hungry because you haven't yet mastered your new cooking arrangement.
It takes time, but in the end it's worth the effort!
Canning and Preserving Food
While canning and preserving food may seem superfluous, since you can buy the same things at the grocery store, if you do start your own garden, you will soon discover that it is often difficult to use all your fresh produce before it goes bad. A great way to make your hard work last all year is to dry, freeze, or can your food.
Note: You don't have to garden to enjoy canning and preserving food. One trip to the farmer's market can yield you a few boxes of your favorites – tomatoes, peaches, apples, etc. Bring them home and get to work!
Canning is the most time-intensive process of preserving food, but when you can eat jellies, jams, salsa, pickles, and more in the middle of winter, knowing that you grew and canned it yourself, you will probably enjoy it more! ]
I used to can hundreds of jars of produce every year. It's been a while since I canned anything, but I hope to be able to make some jellies and relishes this year.
Here are a few of favorite canning recipes from my own kitchen:
The process of drying is probably the simplest, seeing as a dehydrator or oven can do most of the work for you. As far as freezing goes, flash freezing works well with berries, but blanching may be required for other vegetables you may grow in your garden.
The great part about canning or drying is that the food becomes shelf-stable, meaning it won't take up space in your freezer or refrigerator. Dehydrated and canned foods also last much longer than frozen foods.
However, freezing is also a great way to preserve the food. Just be sure to organize your freezer so food doesn't get forgotten. Canning and preserving food is a wonderful old fashioned homemaking skill I encourage you to try your hand at!
Line Dried Laundry
For some, skipping the dryer may seem like a waste of a perfectly useful appliance or a significant step back from modern homemaking. For others, line drying is an extremely satisfying way to dry your laundry without using extra electricity. Plus, you get that wonderful freshly dried-on-the-line smell for your sheets.
Reasons to line dry your laundry instead of using a dryer include saving money (it may not seem like much, but it adds up over time), it uses fewer chemicals since the sun is a natural whitener, and it preserves the clothes to help them last longer (the lint trap is trapping bits of your clothes that come off over time because of the roughness of the dryer). If you don't like the stiff, line-dried feel of your clothes, toss them in the dryer for just five minutes after you pull them off the line, and they will fluff right up.
It's pretty easy to get your kids involved, too, no matter what their ages. Preschoolers can hang laundry and toddlers can help with clothespins. Teaching children energy and money-saving ways of homemaking can benefit them in the future when they start homes of their own.
Some of these starting ideas may seem daunting or overwhelming to try to implement into your everyday routine, but if you start small, you might start to see changes that make a big difference in your life as well as your family's lives. The idea of frugal homemaking appeals to many of us, it's just a matter of where to begin.
Get Up and Get Dressed
Perhaps this isn't as much a skill as it is a good habit, but getting up and getting dressed everyday is a big deal! Old fashioned homemakers didn't stay in their pajamas all day. They got up and got dressed.
Interestingly enough, even Southern Living says that house dresses are back.
"There comes a time in every woman's quarantine when she realizes that even her favorite leggings lose their luster after a while." – Southern Living Magazine, Betsy Cribb, May 1. 2020
Now, I personally only wear a dress every now and then during the week (I live in jeans) but getting dressed and feeling good about how you look is definitely an old fashioned homemaking skill (or habit).
It's a proven fact that when you stay in your frumpy clothes all day, you're less productive. I want to encourage you to wake up, put on some real clothes and put on your shoes.
If you are worried about getting your "good clothes" messed up when you're just going to be at home working all day, wear an apron. Here are a few of my favorite apron picks.
One of my newest favorite resources for getting dressed is Corina Holden's Frump Fighters book of outfits for moms – but really it's a fantastic resource for women of all ages – moms or not!
Get started today for free by downloading her free printable wardrobe guide. Or go all in and grab the Year Round Outfit Guide for moms with over 365+ outfits to help you plan.
I've had my book, the course, and shopping guide for a couple months now and it's literally changed the way I dress. I feel so much more polished and put together. I'll be sharing more about my experience in an upcoming blog post!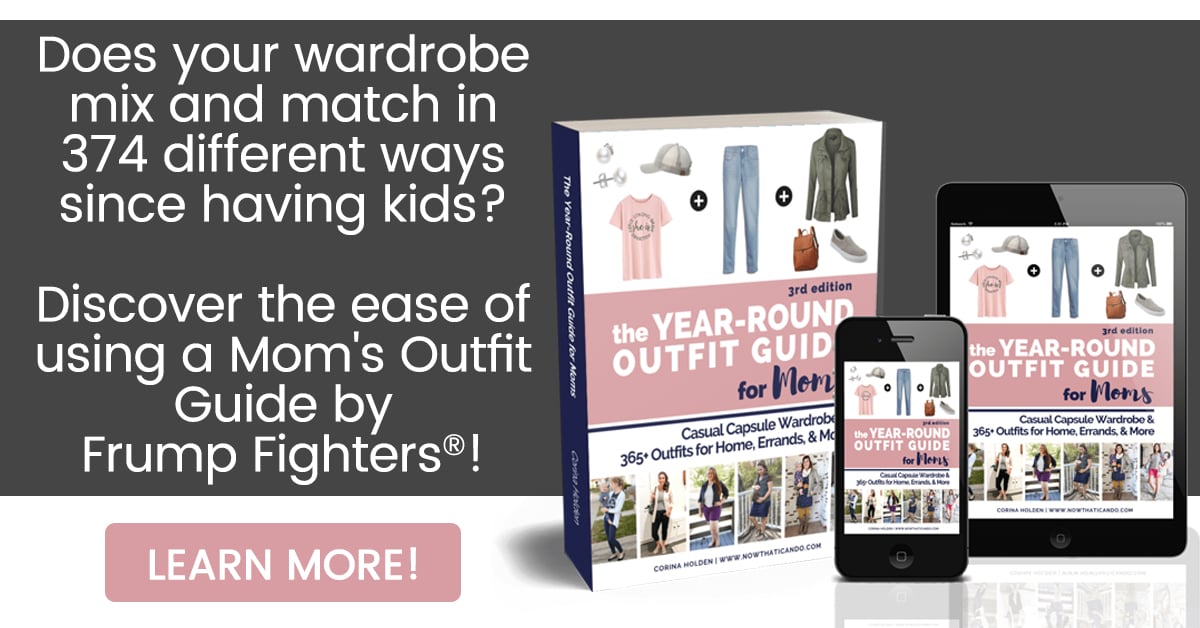 Action Steps to Take Today
If you're interested in learning some old fashioned homemaking skills, make a list of the ones you'd like to try first.
Set a goal. For instance, try cooking one new meal from scratch each week. Or commit to baking one loaf of homemade bread each week.
Study up on your favorite old fashioned homemaking skill and learn, learn, learn.
Remember, practice makes progress. Practice your new homemaking skills on a regular basis and you'll eventually master the skill.
Give yourself grace. Learning new skills takes time. It's okay to have a flop. Don't give up. Try, try again!
Free Printable R & R Cleaning Routine
How to Download
Just fill out the form below and you'll receive an email giving you access to my subscriber exclusive resource library where you'll find this and many more resources for your home and family!
You'll find this Rhythms and Rest (R&R) Cleaning Routine printable in the At Home section of the Library.
The Rhythms and Rest Cleaning Routine printable has three pages – one sample page seen above, and two blank versions you can print and use! Read about how to use this Cleaning Routine here.