9 Virtuous Women of the Bible
What does it mean to be a virtuous woman? Proverbs 31 tells us that a virtuous woman is hard to find. She's a rare treasure – more precious than rubies! Today we're looking at 9 virtuous women of the Bible.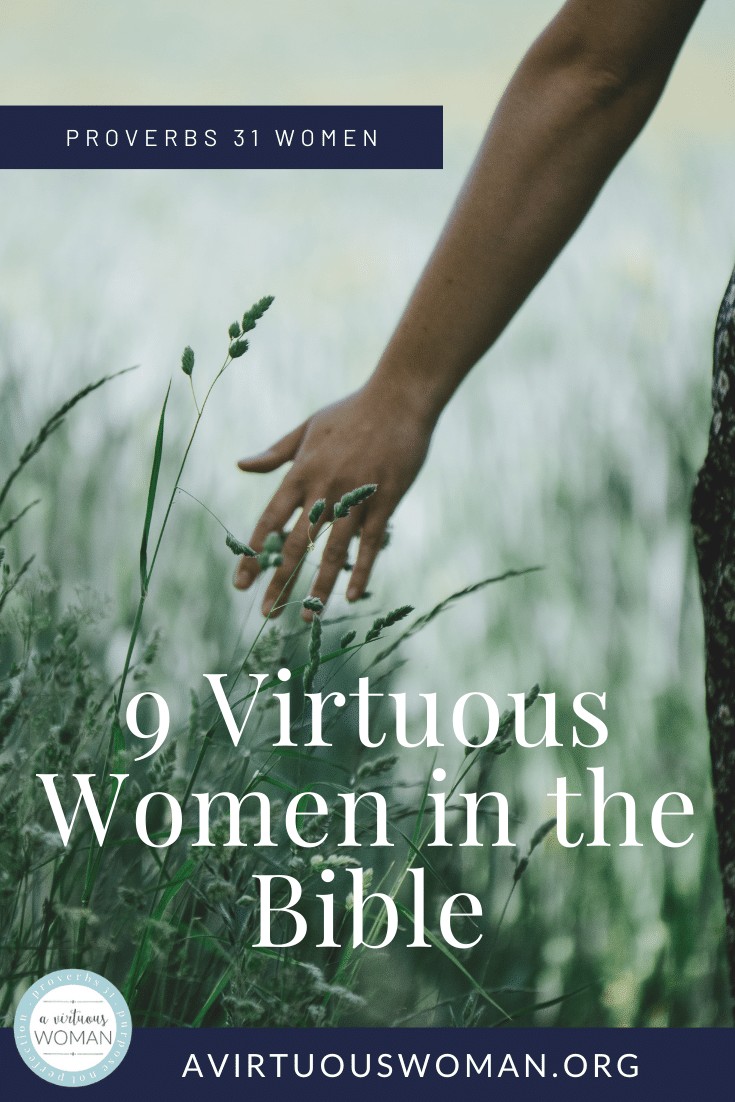 The Bible is full of many virtuous, righteous, and amazing people who are good role models for us as Christians. For women, there are a number of virtuous women in the Bible that we can look to for encouragement in our daily walk with Christ.
Whether you are looking for an example of how to be a Proverbs 31 woman or to simply learn what the Bible says about virtuous women, these women offer us a look at how God works in the lives of women like you and me.
9 Virtuous Women in the Bible
It can be encouraging to see how virtuous women in the Bible stood strong in the face of adversity. Let's take a look at nine women in the Bible who trusted God.
Rachel
We first come across Rachel when she's at the well getting water for her father's sheep. Jacob sees her and falls in love with her. Laban, father of Rachel and uncle to Jacob, agrees to let Jacob work for him for seven years in trade for Rachel's hand in marriage.
When the time comes, Laban tricks him and gives him Rachel's older sister, Leah, instead. Jacob works another seven years to gain Rachel as his wife.
However, Rachel ends up being unable to bear children for Jacob. Through many struggles, Rachel is heard by God and bears a son and names him Joseph.
Rachel was quite patient in many different ways throughout her life. Through having to wait 14 years to marry Jacob and many more years following, with everyone around her bearing children. Through all of this, she kept her faith and trusted the Lord to provide in the best way possible.
Genesis 30:22-24 – Then God remembered Rachel; He listened to her and enabled her to conceive. She became pregnant and gave birth to a son and said, "God has taken away my disgrace." She named him Joseph, and said, "May the Lord add to me another son."
Rachel, even in her struggles, portrayed a Proverbs 31 woman in many ways. However, perhaps the most prominent, was her fear and respect of the Lord and His power. She knew that no matter what happened, it was all in the Lord's hands.
Proverbs 31:30 – Charm is deceptive, and beauty is fleeting; but a woman who fears the Lord is to be praised.
Hannah
Hannah was one of two wives of Elkanah. She was unable to bear children and her husband took pity on her, always giving her double portions when it was time for sacrifice. But Hannah was brokenhearted at the fact that she couldn't bear a child.
She would pray to God often, weeping for a child. Despite her anguish, she kept a good attitude and trusted the Lord. One day, Eli came across her praying and thought she was drunk.
Once she explained that she wasn't drunk, just pouring her heart out to God, Eli stated that she could go and her request would be granted. Hannah trusted in the Lord, her spirits lifted, and she continued to wait.
How many of us, even when God gives us peace about something, continue to try and make it happen ourselves or let it keep us down? Hannah, despite being provoked and pouring her heart out to God for so long, continued to trust and pray.
When God gave her peace, she trusted and moved on, leaving it at the feet of the Lord.
1 Samuel 1:18 – She said, "May your servant find favor in your eyes." Then she went her way and ate something, and her face was no longer downcast.
Hannah is definitely a pure vision of strength and steadfastness. Even with someone berating her for her lack of being able to bear children, she listened to the Lord and trusted. Another shining example of the Proverbs 31 woman.
Proverbs 31:25 – She is clothed with strength and dignity; she can laugh at the days to come.
Ruth
The story of Ruth is such an encouraging one. When Ruth's husband dies, Ruth stays with her mother-in-law and follows her as she travels, both of them searching for protection. Boaz, a relative of Naomi, hears of Ruth going behind and picking up the leftover grains. She does this in order to have food and basically make ends meet.
Boaz approaches her and tells her she will be protected and can work in the fields. Eventually, Boaz marries Ruth, and Ruth is praised up and down for her hard work and kindness.
One of the biggest points to take away from Ruth is her hard work ethic. She is praised for this and her noble character.
Ruth 2:17-18 – So Ruth gleaned in the field until evening. Then she threshed the barley she had gathered, and it amounted to about an ephah. She carried it back to town, and her mother-in-law saw how much she had gathered.
Ruth is such a wonderful example of the Proverbs 31 woman. She encompasses all of the traits any virtuous woman would long to adopt.
Ruth 3:11 – And now, my daughter, do not fear. I will do for you all that you request, for all the people of my town know that you are a virtuous woman.
Proverbs 31:17-18 – She sets about her work vigorously; her arms are strong for her tasks. She sees that her trading is profitable, and her lamp does not go out at night.
Esther
Esther was a simple Jewish girl being raised by her uncle when she was rounded up with a lot of other women to be considered by the king for a wife. After many beauty treatments and preparations, she was chosen to be the new queen.
However, due to a secret attack setup against the Jews in her kingdom, she was forced to go before the king, uninvited (which was a no-no). Not only did she show she was a Jew, but she risked her life for her people and trusted God would protect her.
Esther didn't forget those who were down and out and below her when she became queen. Her heart stayed pure.
Esther 7:3-4 – Then Queen Esther answered, "If I have found favor with you, Your Majesty, and if it pleases you, grant me my life—this is my petition. And spare my people—this is my request. For I and my people have been sold to be destroyed, killed and annihilated.
The bravery of Esther is inspiring. The fact that she could have remained quiet and safe but didn't, is admirable. Yet another shining example of the Proverbs 31 woman, Esther trusted that God would protect her life and she didn't forget her people.
Proverbs 31:20 – She opens her arms to the poor and extends her hands to the needy.
Elizabeth
Elizabeth was also known for being barren. Back then, there was a large amount of shame connected to being childless. Elizabeth was very old along with her husband before she became pregnant.
However, she ended up being the mother of John the Baptist who lept in the womb when Mary, the mother of Jesus, came to tell Elizabeth she was pregnant with the Savior!! Elizabeth is described as being filled with the Holy Spirit and imparts wisdom to Mary.
Luke 1:41-42 – When Elizabeth heard Mary's greeting, the baby leaped in her womb; and Elizabeth was filled with the Holy Spirit and she cried out with a loud voice and said, "Blessed are you among women, and blessed is the fruit of your womb!"
There are a few other verses showing the amazing woman that Elizabeth was. However, she is more noted for her blameless ways, trust in God to give her a child, and her wisdom and prophecy which shines through every verse she is mentioned in. She is the epitome of a Proverbs 31 woman.
Proverbs 31:26 – She speaks with wisdom, and faithful instruction is on her tongue.
Mary, Mother of Jesus
One of the most well-known and amazing women of the Bible is Mary, the mother of Jesus. Her story is told time and again, especially at Christmas time. As a young teenager, Mary was approached by the angel of the Lord and told she would bring the Savior of the world into being.
She took this responsibility on her shoulders with grace and faith. Her story from start to finish is one of strength, grace, faith, perseverance, wisdom beyond her years, and hope.
Luke 1:38 – "I am the Lord's servant," Mary answered. "May your word to me be fulfilled." Then the angel left her.
Can you even imagine being so young and responding this way? What an amazing example of a Proverbs 31 woman.
Proverbs 31:28-29 – Her children arise and call her blessed; her husband also, and he praises her: "Many women do noble things, but you surpass them all."
As a side note, one of my favorite verses about Mary is this one:
Luke 2:19 – But Mary kept all these things and pondered them in her heart.
Mary Magdalene
Mary Magdalene is known as one of Jesus' most loyal disciples. She was the first to visit the tomb and the first one to see Jesus when he had risen from the grave. Jesus had healed Mary of seven demons.
Mary, in a moment of humility, poured a very expensive jar of perfume on the feet of Jesus, washed his feet as tears poured from her eyes, and then dried His feet with her hair.
Matthew 26:12-13 – In pouring this ointment on my body, she has done it to prepare me for burial. Truly, I say to you, wherever this gospel is proclaimed in the whole world, what she has done will also be told in memory of her.
What a beautiful woman Mary was to go from possession to freedom in Christ and humbling herself so low that her story lived on for thousands of years as an example to all women. Just another woman who gloriously exemplifies the qualities of a Proverbs 31 woman.
Proverbs 31:29 – Many women do noble things, but you surpass them all.
Martha
Martha was the sister of Lazarus whom Jesus famously raised from the dead. Her faith was strong as she never doubted the power Jesus held. Even after her brother had been dead for days, she still didn't doubt it.
At one point, we see Martha getting caught up in work and getting annoyed at her sister Mary for not helping. Jesus reminds her that there will always be work but, Mary had chosen the better option.
John 11:21 – "Lord," Martha said to Jesus, "if you had been here, my brother would not have died. But I know that even now God will give you whatever you ask."
What strong wisdom and faith Martha had. Can you imagine having so much faith that you could look at a man and know He was going to raise your brother from the dead, even after his body had started to rot?
Martha is a strong example of a Proverbs 31 woman. Not only was she a hard worker but, she was wise and had the strength that many of a virtuous woman.
Proverbs 31:25-27 – She is clothed with strength and dignity; she can laugh at the days to come. She speaks with wisdom, and faithful instruction is on her tongue. She watches over the affairs of her household and does not eat the bread of idleness.
Dorcas
Dorcus is a lesser known woman in the Bible but, she shouldn't be overlooked despite her brief mention. Dorcus was also known as Tabitha and she lived in the town of Joppa. She was known for all the hard work she did while she was alive.
She had passed just before Jesus had arrived. People were mourning her death. Jesus closed Himself in the room where her body was and commanded her to wake up. She was then presented to the widows she had cared so much for and everyone praised God!!
What a wonderful life Dorcus must have lived for people to mourn her passing so much. She stretched out her hand to the needy and lived a virtuous life. So much so, that her death was a great loss in her hometown.
Acts 9:39 – All the widows stood around him, crying and showing him the robes and other clothing that Dorcas had made while she was still with them.
What a wonderful example of a Proverbs 31 woman. Working with her hands to provide for her family in Christ.
Proverbs 31:19-20 – In her hand she holds the distaff and grasps the spindle with her fingers. She opens her arms to the poor and extends her hands to the needy.
There are many virtuous women in the Bible that we can look to as godly examples of faithful living. These nine virtuous women represent some of the best qualities any Godly woman could strive to possess in order to best represent a woman of God. Be encouraged by their acts of faith, strength, hard work, perseverance, wisdom, and love.
Who is your favorite virtuous woman in the Bible? I'd love to hear your thoughts in the comments below!