Eat at Home | Save Time and Money with Easy Meal Planning
Today I'm sharing one of my favorite ways to make meal planning easy with one of my favorite resources for busy moms. Eat at Home meal planning service makes dinner time easy with just three simple steps.
Ever look at the clock and realize you have exactly 30 minutes to figure out what's for supper and get it on the table before running out the door to your kids game? Yeah. Forget it. Chick-Fil-A or Taco Bell can seem really tempting and a whole lot easier.
With two teens (girls no less) still at home, school time just adds more to my to do list and it can be a challenge to find my groove. One thing I know for sure though is that meal planning saves me so much time and money – and if someone else can help me figure out the meal planning for me? It's a win win!
I know you are looking for the best solutions for your busy family and this simple solution my just be what you're looking for.
If you sign up today, you get 30% off for the life of your membership. That can add up to some amazing savings over the course of a year!
Don't Spend Your Weekend Meal Planning
Weekends should be for spending time with family, having some fun and relaxing.But a lot of us end up spending time doing chores like meal planning and grocery shopping.
What if you could outsource this task and have more time to spend with your family?
Eat at Home Meal Plans takes care of all the "thinking" part (which is arguably the hardest part) of dinner by giving you the meals, recipes, grocery list and more!
The recipes are simple and good too – there's even a whole category of 15 minute meals for your busiest days!
Eat at Home Meal Plans are on sale this week! These plans can simplify your life. .
You guys! Just three easy steps and dinner is done!
Choose from one of the FOUR plans members have access to: Traditional, Wholesome, Slow Cooker or the No Flour/No Sugar.
Shop with the color-coded grocery list. (You can even order your groceries online and have them delivered!!)
Cook the simple recipes. I love the slow cooker, Instant Pot, 15 minute recipes and more!
These plans can save you time and money each week. Use the code YES at checkout to save 30% off the regular price – just click here!
---
If your family is like most American families, finding time for family dinners on a regular basis is a challenge. As children get older and your days are filled with more activities, finding time to sit together around the table isn't easy, but it's super important!
related: How to Feed Your Family Well
The one constant in every single day is that we have to eat. And since we have to eat, I want to eat good food. Like every day.
I want my kids to remember eating good food at home. And I want them to cherish memories of us sitting at the table together enjoying a delicious meal and fellowship together.
Unfortunately, for the average American family, meals are often eaten alone or in the car. Studies have shown that for the average American, one in every five meals is eaten in the car, at least one fast food meal is eaten every day, and families eat dinner together less than once a week.
When families eat together, kids tend to eat more fruits and vegetables. Families who eat dinner together are more likely to eat healthier and to encourage their children to make good food choices. This also means your kids will be less likely to be overweight.
However, if the television is on during dinner, kids are more likely to be overweight at a younger age. So turn off the television and spend time talking.
Obesity in children has become a real issue as nearly 1 in 5 adolescents are overweight which puts them at great risk for health issues later in life.
---
Let's Face It
We've been talking about family dinner and getting it done easily, because let's face it…
Between sports schedules, work, school, picky eaters and busy family life dinner can sometimes get left out of the picture.
What we'd all want is to sit down with our family for a few minutes at the end of the day and reconnect with one another, while having a good meal.
Getting there can be hard though!
But Tiffany, the creator of Eat at Home Meal Plans has put together plans that work for real families like yours. With recipes that easily fit into your busy day, common ingredients you can find in any grocery store and shopping lists that are easy to use, these plans solve the dinner problems we all face.
---
Here's what some fellow members have said:
The 15-minute meals are a lifesaver with my teens playing sports, we are still able to sit down and eat dinner as a family each night. I'm so glad I took a chance and tried this! ~ Teresa H.
Oh my goodness…this plan enables us to actually plan meals and save money! There are so many options available which makes it really easy to please even the pickiest of eaters! Also, love the grocery lists included with the plans! Talk about easy!! And, you use everyday foods that my family enjoys. 🙂 ~ Lori E.
Eat at Home meal plans has changed our evening routine to include so much less stress and more family time! ~ Stacy W.
---
This is a great time to start making your dinner easy with your own Eat at Home Meal Plan membership. Save 30% off the regular price right now – just use code YES at checkout.
Dinner in 15 Minutes
You really can have dinner in just 15 minutes – which is faster than waiting in the drive through line on busy nights.
Here's a plan for a complete meal that you can get ready in just 15 minutes. Creamy Chicken Florentine Quesadillas with Spinach Salad uses common ingredients you either already have in your pantry or that you can pick up at the grocery on your way home.
Click here for the recipe for 6-8 servings or here for the recipe that serves 3-4 people.
Note: My family is vegetarian so for this recipe I would substitute the meat with Quorn "Chicken Pieces".
If you like the ease of this recipe, you'll LOVE Eat at Home Meal Plans!
Eat at Home Meal Plans are on sale now through August 27, 2019. For about the cost of one restaurant meal for your family, you can have all the recipes, grocery lists and plans you need for a full year! Save 30% off the regular price by using the code YES at checkout.
How do you really use Eat at Home Meal Plans?
See? It's so easy!
Three steps. Lots of options!
Click here to end your dinner struggles for as low as $1.13 a week. You'll save 30% off the regular price by using the code YES at checkout.
Save Money by Eating at Home
Annual subscription for Eat at Home meal plans: $59/year
That means if you cook JUST TWO dinners in the next 365 days from the menu plans, you will have more than paid for your annual subscription!
You already know that eating at home saves money. And you already know that families that eat together experience a whole host of benefits, from lower stress, to higher grades for the kids, to lower obesity rates.
So… what are you waiting for?
Click here to save 30% off the regular price by using the code YES at checkout.
Free Printable Weekly Menu Plan + Shopping List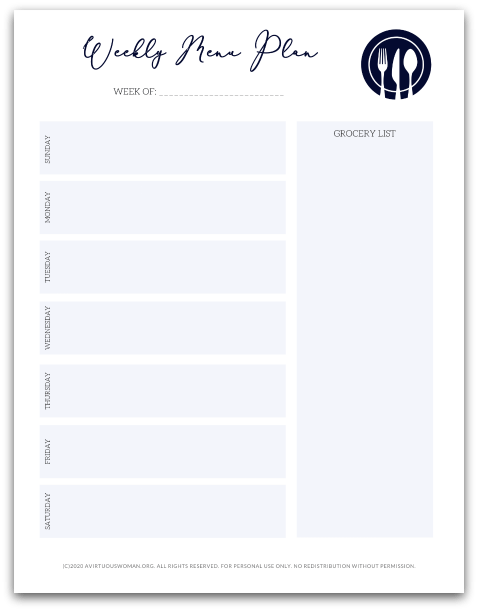 How to Download
Just fill out the form below and you'll receive an email giving you instant access to my Weekly Menu Planner + Shopping List.
If you are already a subscriber, filling out the form won't affect your subscription, but you will receive the link to download!
Why should I subscribe?
access to my subscriber exclusive resource library
exclusive coupons and sales to my shop
updates, challenges, freebies, and exclusive offers
instant access to subscriber exclusive printables