In Perfect Peace | Day 4 + Free Printable Bible Reading Plan
Welcome to Day 4 of our series, From Chaos to Calm: 15 Weeks to a Happy Home. Today we're talking about finding peace in our hearts when we focus our minds on Christ.
Good morning, Ladies! first of all I need to apologize for this being posted so late this morning. I've had company for the last two weeks and eventually all those things I had pushed aside in favor of spending time with family and friends caught up with me and I just couldn't keep up. I had so many deadlines that had to be met yesterday and we were at the ice rink all day. I did manage to get some things finished on time, but I did not get today's video made and I'm sorry.
I will add it to this post when it's finished and uploaded if want to check back later today or this evening. In the meantime, you can read today's devotion and listen to the podcast. I hope you had a great day yesterday – let me know how things are going!
---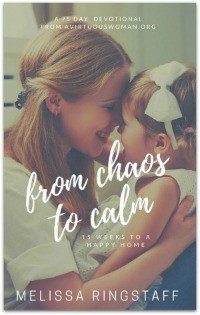 From Chaos to Calm eBook
If you've been struggling with your home, your marriage, your children, or just life in general this might be the answer you have been waiting for! Inside the pages of this ebook you will spend 15 weeks working toward a goal for:
– peace in the heart
– peace in the home
– peace with our husbands
– peace with our children
---
From Chaos to Calm: Day Four
In Perfect Peace
Scripture Memory: "Thou wilt keep him in perfect peace, whose mind is stayed on thee." Isaiah 26:3
So, have you been able to set your alarm and get up each morning with a smile on your face? If you have a day where you do not reach your goal, do not fret – realize that tomorrow is a new day and that you can start all over. Remember, too, that it takes about a month before you commit an activity to a routine or habit. It will get easier!
Today I want you to think about peace. What does peace mean to you? It is so important to have peace in your home. If your husband comes home each evening to peace, he will look forward to coming home. If your children live in a peaceful environment, they will grow up to care for the feelings and needs of others rather than be anxious and unsure of themselves.
How do we attain perfect peace? The Bible says we will have peace from God if our thoughts dwell on the things of God. Our hearts will be transformed. This is why having your morning devotion is so important! It sets the tone for the rest of the day. If you begin your day consumed by the Word of God, your heart will have been recharged or nourished by the bread of life. Your emotions will not be running on an empty tank.
If you already feel like your heart reserves have been running on low for quite some time – you need to fall on your knees before the Lord and pour out your heart to Him. Let the tears flow! Cry out to Him – out loud! He is there for you, always waiting for you. It is okay to tell him you feel lousy and that you know you messed everything up and that you are desperate for His help. ASK him for that perfect peace.
Your homework the first day of this challenge was to set your alarm and wake up early for prayer and devotion. Your second goal was to wake up with a smile on your face and a determination to choose joy regardless of how disappointing life can sometimes be. Today, your homework is to create a Prayer Journal, or a Victory Journal, or a Faith Book.
This journal can be any size, shape, or style that you choose. You can select a 3 ring binder or a standard notebook or it could be a pretty blank book – whatever suits your fancy. You might want to decorate the outside of the book. Whatever you use, find something. Place the book in your chosen prayer corner with a nice pen or sharpened pencil.
Inside, I want you to record the Scripture Memory verses we have each day of this challenge. When you have your devotion tomorrow morning, get out your book and write down your prayer to God. Date it. Do not hold anything back. Write out all of your concerns, petitions, and praises to Him who created you. As you study God's Word and find a verse that speaks to you – put it in your journal. When you have special moments happen in your life or even sad events – put them in your journal. When you see an answer to your prayers – put it in your journal and date it!
Once you have had your prayer and devotion each morning, take it with you – dwell on the Scriptures your read or the lessons your learned as you go about your day. He will keep you in perfect peace!
Tonight, remember to set your alarm, wake up with a smile, and pour out your heart and soul to God. He loves you so much and always has a listening ear!
Listen to the Podcast:
Press play to listen to the podcast or click here.
From Chaos to Calm: 15 Weeks to a Happy Home is a daily devotion – Monday through Friday for 15 Weeks by Melissa Ringstaff. The Audio Podcast gives you extra ideas to go along with the email series or e-book.
Free Printable Prayer Journal
How to Get the Printable
Just fill out the form below and you'll receive an email giving you instant access to this free printable.
If you are already a subscriber, filling out the form won't affect your subscription, but you will receive the link to get the printable!
If you're a member of the Homemaker's Circle, this printable can be found inside of the membership! If not, you can join today for as little as $1.00 a week and get instant access to over $500 worth of digital products and homemaking classes including The Disciplined Homemaker and A Time to Clean!
Why should I subscribe?
access to my subscriber exclusive resource library
exclusive coupons and sales to my shop
updates, challenges, freebies, and exclusive offers
instant access to subscriber exclusive printables