Throwback Thursday | Themed Dinner Ideas Back in the Day
Meal planning is made so much easier when you use themed dinner ideas. You may have been trying to come up with fun Thursday dinner themes because what goes with Thursday?? Well, let me help you. Today I'm sharing some great ideas for your next Throwback Thursday themed dinner.
Whether you want to make this a weekly tradition or an occasional family experience, this list of Throwback Thursday dinner ideas will help you plan this week's menu!
I love themed meal planning because it helps me come up with ideas without thinking too hard and long about it. For instance, when planning your menu for the week, your thought process might look like this:
This Thursday our themed dinner menu will be Throwback Thursday. What can I make that's a favorite meal from my childhood?
Be sure to check out The Ultimate List of Themed Dinner Ideas here.
In our household, we're vegetarian. In fact a large majority of our extended family is vegetarian as well. Sometimes I make vegetarian dinners that are just you know, naturally vegetarian. However, sometimes I take recipes that call for meat and replace the meat with a vegetarian option.
Being a vegetarian has many health benefits.
Vegetarian substitutions for meat:
You'll find these products in the freezer aisle or health food section of your local grocery store. You can also find these products at most health food stores like Whole Foods.
Throwback Thursday Themed Dinners
How to plan your menu in 4 easy steps:
Select your main dish.
Choose 2 – 3 side dishes that compliment your main dish.
Think about variety of food groups. Try to choose something from each of the main food groups.
Focus on providing well rounded, nutritious meals.
25 Throwback Thursday Recipes
Main Dishes
Favorite recipes from back in the day. Throwback recipes to your childhood. You can introduce your kids to recipes you remember from your growing up years. Have fun with it!
12 Side Dishes Ideas
Use one of these delicious side dish options to round out your Throwback Thursday meal.
More Throwback Thursday Side Dish Ideas
steamed frozen vegetables (corn, broccoli, etc.)
brown rice
baked potatoes
beans or peas
fruit salad or sliced fruit
garden salad
bread or toast
lima beans
Theme Day Menus: Throwback Thursday
Let's put it all together. I'll show you how I would create menus based on the Throwback Thursday themed dinner ideas I've shared above.
related: Wish someone would do all your menu planning for you? Good news! Eat at Home Meal Planning service is a simple solution for busy women just like you.
8 Throwback Thursday Menu Plans
Themed Dinner Idea #1
steamed broccoli
garlic toast
Themed Dinner Idea #2
Mashed Potatoes
steamed frozen peas
Themed Dinner Idea #3
steamed broccoli
garden salad
Themed Dinner Idea #4
frozen nuggets (your favorite)
steamed frozen peas
sliced fresh tomatoes with salt and pepper
Themed Dinner Idea #5
Themed Dinner Idea #6
grilled or steamed asparagus
Themed Dinner Idea #7
Themed Dinner Idea #8
Free Printable Recipe Binder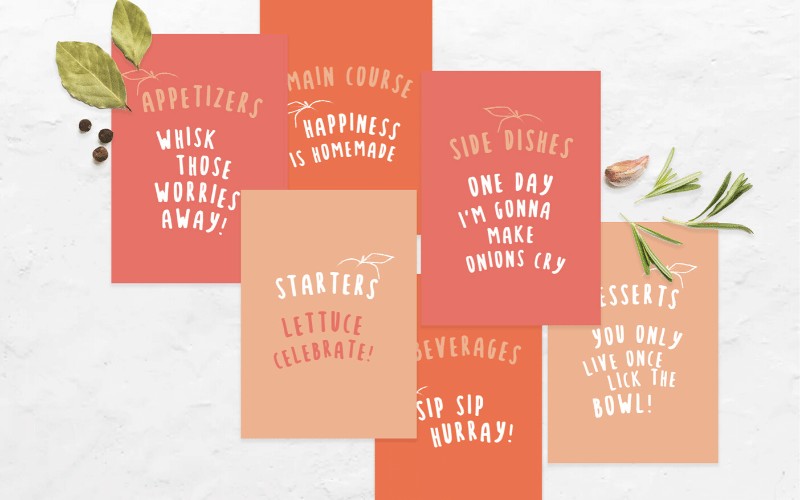 How to Download
Just fill out the form below and you'll receive an email giving you instant access to my free printable recipe binder.
If you are already a subscriber, filling out the form won't affect your subscription, but you will receive the link to download!
Why should I subscribe?
exclusive coupons and sales to my shop
updates, challenges, freebies, and exclusive offers
instant access to subscriber exclusive printables